Team 91 Player Spotlights
Getting to know George Kalos
Player Name: George Kalos
College Commitment: University of North Carolina at Chapel Hill
High School: W. A. Hough High School
Position: Midfield
Graduating Class: 2022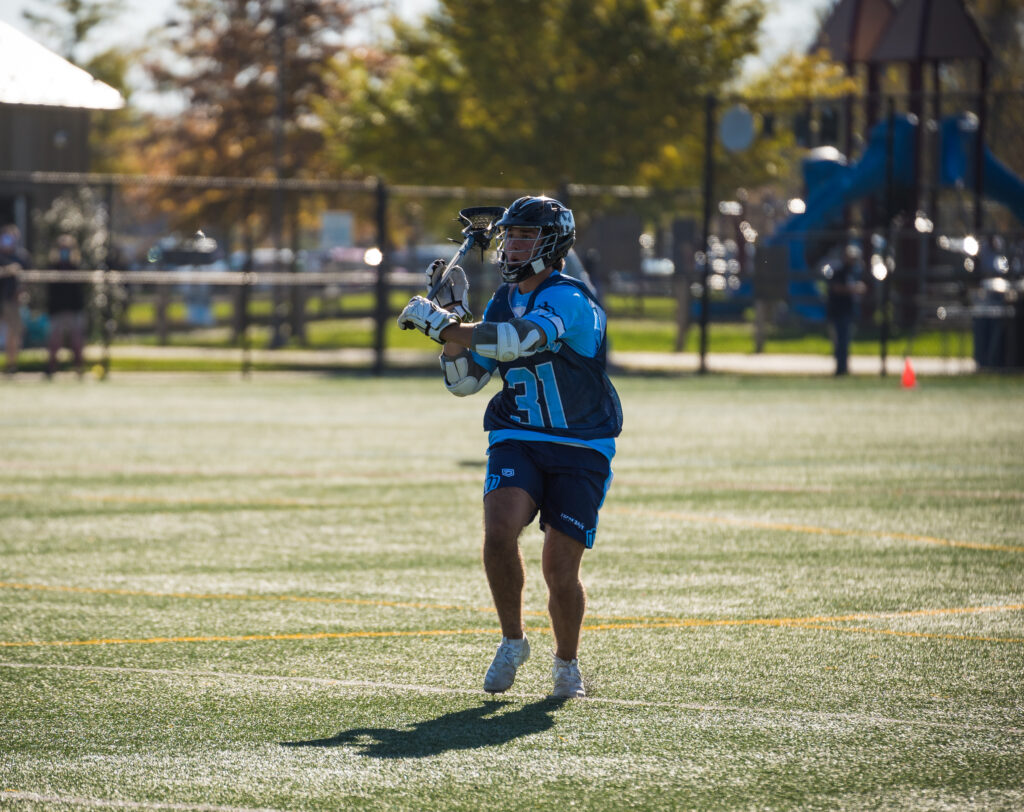 What other schools did you consider?
Ohio State, Penn State and Notre Dame.
How did the school you chose separate itself from the others you considered?
UNC has always been my dream school, so when they reached out on September 1st I was ecstatic. In addition to being my home state school, UNC has the perfect mix of incredible academics and athletics. I had a special connection with Coach Breschi and the coaching staff. When Coach called, he was very enthusiastic and excited about me becoming a Tar Heel.
How would you describe your recruiting process overall?
I knew going in that I did not want to drag out the process but it was still a pretty crazy. Prior to September 1st, I had reached out to various schools I was interested in to keep them informed of my playing, highlight films and progress. Team 91 Charlotte helped a lot when teaching me how and when to reach out to schools throughout the process.
Once midnight on September 1st hit, it was really fun and exciting getting calls, texts and emails from coaches at schools I've always dreamed of attending. After the first couple days it got serious and stressful pretty quickly, but in the end it was all worth it. COVID prevented us from taking visits to schools so it was a lot of Zoom calls which made the process go a lot faster than normal.
What was your favorite part of the recruiting process? 
The moment 12:01 am on September 1st hit -- that was an experience I will never forget; including that first minute after midnight being the longest minute of my life. Hearing from coaches right away was a memory I will have forever.
What opportunities and information assisted you during your recruiting process?
Coach Ryan's advice about the process "being your own" and to take it at your own pace was encouraging and stuck with me. Also, as a faceoff midfielder, Greg Gurenlian and the Faceoff Academy helped a great deal in my recruiting efforts. I am very fortunate to have such amazing people and programs like Team 91 and FOA supporting me.
Did you feel like you had support from the Team 91 Staff during your process? If so, how?
Coach Ryan, Coach Bobby, Coach Farmer, and the rest of the coaches and Team 91 staff were vital in my entire recruiting process, from start to finish. In addition to Team 91 helping me reach out to schools and prepare for September 1st, their relationships with college lacrosse coaching staffs are second to none so I knew that I always had someone advocating for me with coaches. If you want to play lacrosse at the next level, you need to be with Team 91!
What individual or showcase events, if any, did you find the most beneficial during your process?
The two biggest showcase events that I believe helped me the most were the NXT Fall Showcase and the FOA National Championship. As a faceoff middie, those two events were huge for me. I also think that going to prospect days at schools that you are really interested in is important.
What would you tell younger players or parents to help them prepare for the recruiting process?
Know what you are really looking for in a school before September 1st. There are a lot of different factors to weigh when selecting a school and you want to have your list narrowed down so that you can focus on those schools that are the right fit for you.
Also, play your absolute heart out and be coachable - there is a lot of talent out there, so you need to differentiate yourself to coaches with those extra qualities that they can't necessarily teach.
Coach Flanagan on George
I'll always remember our first Fall with George. He showed up at our Fall tryouts and you could tell pretty quickly that he was a going to be a good athlete. He was a little bit raw as a lacrosse player but it was easy to see that he grew up playing sports, embraced contact and was very coachable. We would learn that season that he was also a great youth football player and had an awesome set of parents, so it all made sense after seeing him that first Fall.
We don't really encourage guys to specialize at a position at the younger ages so George was playing midfield for us that Fall and he happened to be pretty good on faceoffs. He enjoyed taking them and was winning more than he was losing so our coaches just let him continue taking more and more. Fast forward a few years and George continued to get bigger, faster and stronger while also improving his skill at the faceoff X. He worked his way in to being one of the top recruits in the country at his position and was absolutely dominant in the summer leading up to his junior year.
I have always tried to avoid comparing guys that we coach. While a player may be similar to someone we had in a previous class, they are their own player and have something that makes them different or special. We have been really fortunate over the years to have some very good faceoff specialists but they were all different. Some had really fast hands, some were really strong, some were good after the clamp when the ball is on the ground, etc. They all had something different that made them special. We laugh as coaches because it's almost like George is a combination of all the strengths of the guys that we have had previously. He is built like a linebacker, he has really fast hands, he loves to scrap when the ball is on the ground and when he is playing well, he can add 1-2pts per game on offense.
The thing I have always loved about George is how competitive he is. Every time we talk to a college coach, one of the first questions they ask is how competitive a guy is and that was always a really conversation to have about George. He is almost competitive to a fault. When you play the schedule we play, you're not going to go 100% at the faceoff X. The teams we are playing are too talented. George still approached every game with the mindset that he was going to win his matchup and get us the ball.
As a UNC alum, it's a special thing to have a guy that grew up in our program decide to play there. I can't wait to follow his success this Spring at Hough and on to UNC.
Archived Spotlights
Matt Lutzel - Team 91 Charlotte - High Point University - Full Article Here
Casey Hurley - Team 91 Charlotte - St. John's University - Full Article Here